Everything you didn't know about joint replacement
By StoryStudio
September 23, 2019

6:36 pm
There's a cure to your hip and knee arthritis.
Orthopaedic & Sports Medicine (OSM) Center, a division of Connecticut Orthopaedic Specialists, is an establishment of fellowship-trained, board-certified, nationally recognized surgeons who specialize in the musculoskeletal system, particularly state-of-the-art joint reconstruction. Their ultramodern outpatient surgeries, such as direct anterior hip replacement and medial uni-knee partial knee replacement, completely remove the arthritic cartilage, which prevents the condition from spreading. With procedures that often take less than an hour, their surgeons and staff help patients return to their full athletic capabilities quickly with reconstruction that lasts a lifetime.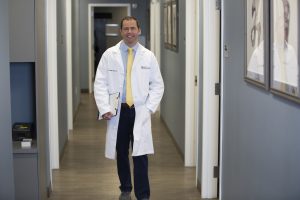 "We treat our patients like family," said Dr. Curtis Campbell, a board-certified orthopedic surgeon at Orthopaedic & Sports Medicine (OSM) Center and Connecticut Orthopaedic Specialists, who does minimally invasive outpatient hip and knee replacements. He, his colleagues and staff take pride in their patient-centered approach that focuses on individualized treatment and ― most importantly ― that helps their arthritis patients regain their quality of life.
"My results have been remarkable," said Mickey, 74, from Fairfield, Conn., who recently retired as president and CEO of the Bridgeport Regional Business Council (BRBC). Thirteen days after his hip replacement with Dr. Campbell, Mickey found himself at a BRBC party celebrating the grand opening of the Boca Oyster Bar. "People were amazed to see me there, freely walking around," he said. "I've already planned a trip to Disneyworld with my three grandkids who are 11, 10 and 7 years old, and I can't wait to be able to keep up with them."
Keep reading to see how Dr. Campbell permanently solves arthritis with his outpatient surgeries.
1. What's the biggest misconception about joint replacement surgery?
Patients worry most about the pain management and the recovery process. For pain, we limit the use of opioid medications while providing excellent relief through a combination of spinal anesthesia, regional nerve blocks, local injectable anesthetics and non-narcotics. In terms of recovery, we encourage patients to walk with the physical therapist the same day of their surgery, and that same night, they often return home to sleep in their own bed. If they do stay at the hospital, it's typically no more than a night. Patients then return to work three to four weeks post-surgery, as long as they have a job that doesn't require strenuous physical labor.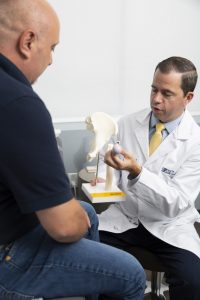 2. What distinguishes your hip surgery, the direct anterior approach, from traditional methods?
The direct anterior approach uses a natural plane between muscles to access the hip joint, going in from the front of the hip and sparing muscle, which preserves the stability of the hip and promotes a quick recovery. In fact, all patients walk the day of surgery, and most go home the day after surgery, with some even going home the same day. The other approaches to hip replacement involve higher risk of dislocation, muscle damage/weakness and prolonged restrictions after surgery, but the direct anterior technique allows me to maximize my patients' outcomes.
3. What about partial knee replacement? Why is this a good idea for some patients?
The partial knee replacement is an excellent option when only one of the three compartments in the knee, typically the medial (inside) or patellofemoral (kneecap), is compromised by arthritis. It addresses the area of severe symptoms while preserving most of the natural anatomy of the knee. Accordingly, patients recover faster than total knee replacement patients and are typically able to return to a higher level of activity.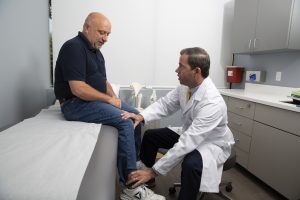 4. What are patients most happy about after their joint replacements?
Since we remove the painful bone and cartilage, any severe arthritic pain is typically gone immediately after surgery, so patients are most happy about how quickly they return to the activities that they want to be doing, as well as their improved quality of life.
"It's been fantastic, completely life changing, an incredible miracle," said Clinora, 67, a high school drama teacher from New York City. In fact, she loved the results of her first hip replacement with Dr. Campbell so much that she went ahead with a knee and second hip replacement in a 16-month span. Before that, Clinora had suffered from "excruciating," "tortuous" arthritis to the point that she couldn't walk more than a block.
"I'd do the surgeries all over again in a flash ― it's like feeling 28 again ― the recovery is a piece of cake," she said. "And of course, I'd most certainly recommend Dr. Campbell. He's a special, dedicated, amazing surgeon, a real prince, with a great team that's a dream to work with. They go above and beyond."
To make an appointment, call Dr. Campbell directly at (203) 601-5242 or through the main office line at (203) 268-2882.
Orthopaedic & Sports Medicine (OSM) Center, a division of Connecticut Orthopaedic Specialists, uses its exceptional team of physiatry, chiropractic, physical trainers and other highly qualified members (who themselves actively compete in a variety of sports, from triathlons to golf) to address athletics and sports medicine. If surgery is necessary, they'll pair you with an OSM surgeon, like Dr. Campbell, with expertise in your specific condition. Recently, the center launched OSM STAT, which is OSM's walk-in clinic with extended hours, meaning if you're acutely injured, you'll receive specialized OSM treatment while avoiding the emergency room. Meanwhile, the umbrella practice, Connecticut Orthopaedic Specialists, has 21 locations across the state, including four urgent care walk-in centers, three in-house MRI centers, their own state-of-the-art surgical center, and seven in-house physical therapy centers.